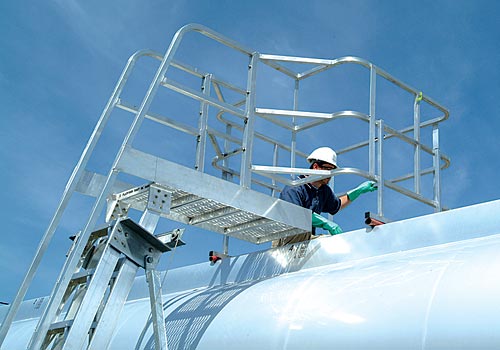 Providing a safe work site is critical for protecting your workforce against accidents that may cause serious injuries. In particular, fall prevention measures such as safe access platforms are viable safety solutions that reduce the risk of preventable accidents.
However, you may not always have the time or space available to install a traditional access platform. If you need a more flexible safety solution, portable platforms are often able to meet the specifications of your work site.
Portable work platforms are suitable for truck and rail access when installing permanent platforms is simply not feasible. Learn more about how portable platforms help you meet your work site's safe access needs.
How Portable Platforms Are Used
Some portable platforms are designed specifically for tank truck access.These lightweight and low-cost safety solutions are suitable for fall prevention during loading and unloading.
General truck and rail-access rolling platforms usually have wheels that make transporting your system simple and efficient. Many systems also accommodate motors, pumps and hoses, facilitating your workers on the job.
While rolling work platforms are convenient for companies that do not have enough space for a permanent solution, it is important to remember these systems are not designed for high usage.
For example, a company that only has to vent the hatch on a truck would benefit from using a portable system. Companies with heavy or high-volume loading schedules, as well as those that require handling loading arms or hoses while on top of the truck, should install a platform.
Fall Prevention And Minimizing Risk
Misspotting is a risk when using portable platforms just as it's a risk when using traditional access platforms. While traditional access platforms require you to move the vehicle in order to align with the platform, portable platforms must be moved to align with the vehicle. If you misspot the equipment, the risk of falling greatly increases.
It's also important to keep platforms tidy and remove items from the stairs to avoid trips and falls. Large, unwieldy objects should not be carried up and down the stairs as this increases the possibility of the platform tipping over.
You may be able to customize your portable platform depending on the model and your specific needs. When choosing a safe access system, keep in mind that these portable systems are most often used for light loading and unloading, as temporary solutions or as back-up equipment in the event of an emergency.
If you have questions about safety procedures for portable platforms, the correct operational processes are detailed in the owner's manual. It is also beneficial to speak with an experienced professional who is knowledgeable on the use of safety equipment.
Are you taking the necessary precautions to protect your employees against accidents on the job? Discover seven tips to increase workplace safety and maintain OSHA compliance.