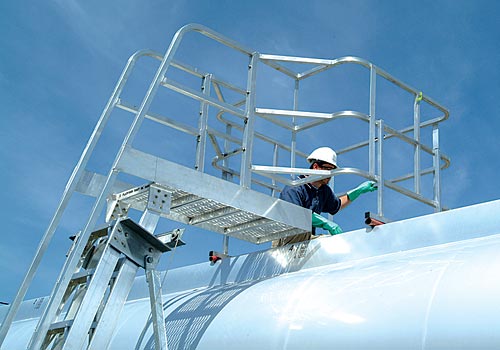 Providing a safe work site is critical for protecting your employees against accidents that may cause serious injuries. For rail sites in particular, fall prevention measures – such as safe access platforms – are viable safety solutions that may reduce the risk of preventable accidents, such as falls.
However, you may not have the time to install a traditional access system. If you find that you need more flexibility, a portable platform might be beneficial for your work site.
Portable platforms are suitable for rail car loading and unloading when installing permanent equipment simply isn't feasible. Learn more about how to determine whether portable platforms are right for your rail site.
How Portable Platforms Are Used
Portable platforms designed specifically for rail cars are lightweight, low-cost safety solutions suitable for fall prevention during loading and unloading.
Typically, a portable platform has wheels that make transporting the equipment more efficient. Many different options are available depending on the kind of vehicle you need to access, the type of work performed and the space available at your facility.
Portable platforms provide flexibility that is not available with a fixed platform. Some of the benefits include:
May be used in many different locations at your rail site
Improves workplace safety and provides fall prevention
Eliminates the need for operators to use ladders to access the top of rail cars
May be used during loading, unloading, during inspections and when opening hatches
Although rolling platforms are convenient for companies that do not have enough space for a permanent solution, it's important to remember these systems are not designed for high usage. If you have a heavy or high-volume loading schedule, consider installing a permanent platform.
Fall Prevention And Minimizing Risk
As with traditional platforms, mis-spotting is a risk when using portable platforms. While traditional access platforms require you to move the vehicle to align with the platform, you must move a portable platform to align it with the vehicle. If you mis-spot the equipment, the risk of falling increases significantly.
It's also important to keep your platforms tidy and to remove items from the stairs to avoid trips and falls. Large, odd-shaped objects should not be carried up and down stairs, as this increases the possibility of the platform tipping over.
Additionally, you should always customize your portable platform for your specific needs. When choosing a safe access system, keep in mind that portable platforms are most often used for light loading and unloading, as temporary solutions or as backup equipment in the event of an emergency.
Always work with a trusted rail safety vendor to ensure your fall prevention equipment is suitable for your site. An experienced vendor can access your rail site, provide recommendations based on your exact needs and properly install all safety equipment.
Learn more about comprehensive rail safety solutions by downloading this free industry guide from Carbis Solutions.