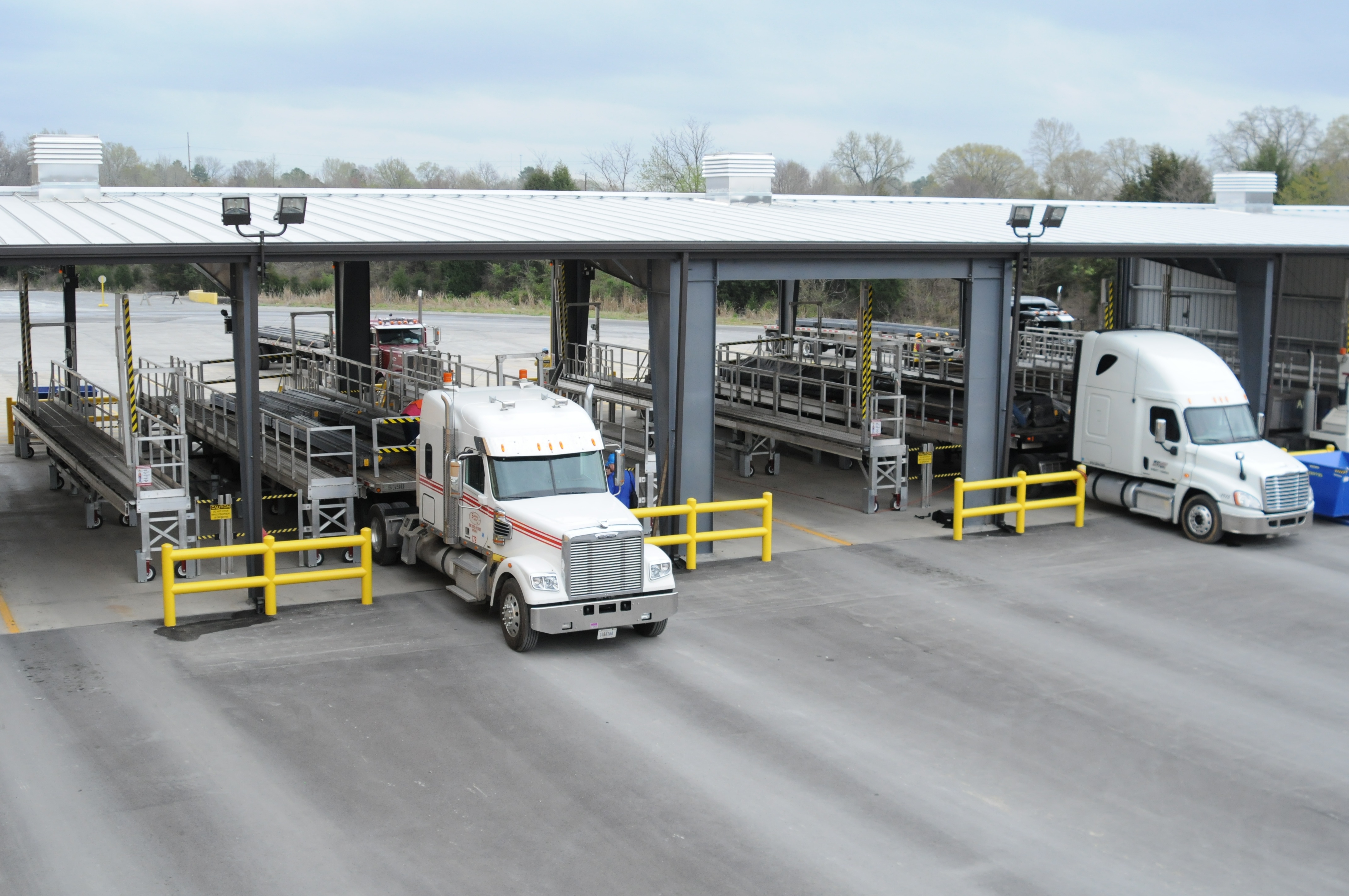 If you've ever shopped online for flatbed trailer safety systems, you know there's no shortage of solutions. It may seem daunting to narrow your options and find the ideal equipment for your site.
Unfortunately, it's impossible to simply pick your safety solutions from a website. Consider the following types of equipment and ask yourself honestly whether you would be able to choose the precise models suited to your facility:
Drive-off protection
Warning lights
Swing gates
Flatbed tarping platforms
Overhead tarping systems
Canopy systems
Complete terminals
Perhaps you read an article about swing gates or know that a competitor uses certain flatbed tarping platforms. But how do you know if the equipment meets your specific requirements? Learn how to assess your site's needs and choose the correct equipment with the help of a safety expert.
Factors That Determine Your Ideal Safety Solution
Your flatbed trailer safety equipment must suit your site layout, processes and trucks. When you consult a safety expert, you should discuss the following factors to help narrow down your search for the right equipment.
Your Operators' Work Procedures
An expert must understand your processes to identify equipment that won't interfere with driving, spotting or loading/unloading procedures. The solution should enhance these processes.
Varying Truck Sizes And Configurations
Information about variances helps your expert identify solutions that don't cause gaps, which a worker may fall through, and know whether your solution needs to be moveable.
Your Specific Product And Its Risks
Whatever you are loading onto your flatbed has its own unique hazards. For example, products that have round surfaces may roll around and must be safely secured.
Points Of Access On Your Truck
Depending on what and where you are loading, you may face limitations on how you gain access to the flatbed. Your solution must provide access at feasible locations.
How You Will Spot Trucks To The Proper Location
Your safety solution is designed to a specific set of parameters. If the truck isn't spotted properly, gaps between your truck and equipment may cause serious falls.
Your Internal Safety Standards
Some companies have standards that are far more stringent than OSHA standards. Your expert must be aware of your requirements so the solution matches them.
Industry Safety Standards And Best Practices
If your industry generally follows certain safety guidelines, and they are stricter than OSHA-mandated rules, the expert designing your solution should be aware of them.
Your Site Layout And Traffic Flow
Limitations at your facility, such as lack of space, may prevent certain safety solutions from functioning as intended. In this case, you would need a highly customized solution.
Power Limitations For Electric, Pneumatic And Hydraulic Equipment
Many safety systems move, and movement requires power. Your solution's power requirements may impact your budget.
Your Unique Climate And Weather Conditions
An expert must consider how cold, heat, snow, ice, rain and other conditions affect your product and operation.
Load Height
Load height impacts your equipment decision. A drywall facility with tall loads requires different flatbed fall prevention equipment than a cement plant with low loads.
No safety solutions provider can accurately recommend equipment without understanding these parameters. An expert may have further questions after the topics here are covered, depending on what you discuss.
While safety risks at your facility may be pressing, avoid purchasing equipment without first confirming that it's suited to your site. Instead, remove workers from hazardous areas until you find the correct equipment. If you're searching for a way to revitalize your safety culture, look beyond product listings and delve deeper into your needs to identify impactful solutions.
Is your workplace safe? Assess your site with these 10 safety metrics.