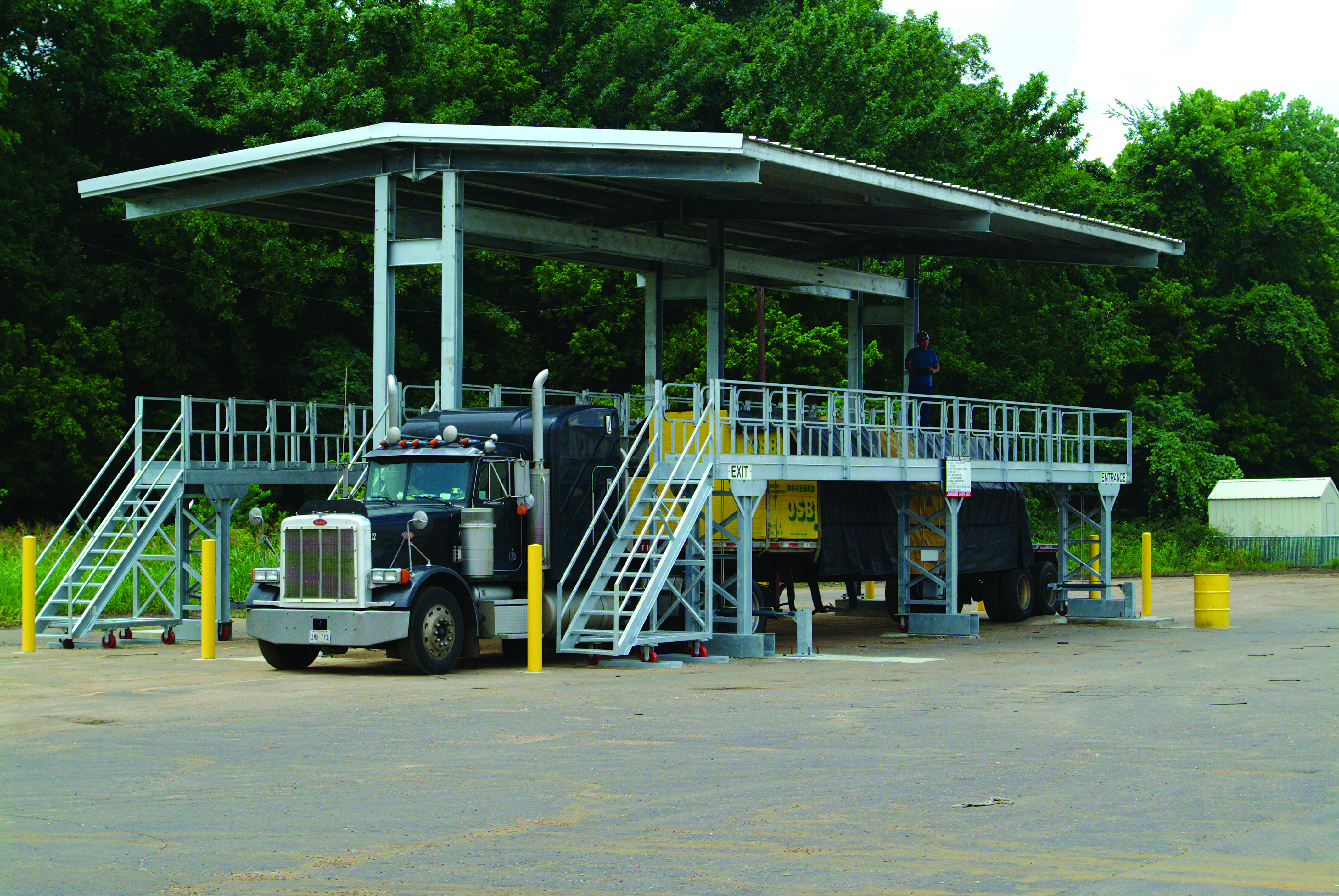 A well-designed flatbed fall protection solution helps your drivers feel safer on the job – without costing them valuable time. Properly implemented, such a solution helps to improve employee safety when working with flatbed trucks, which could save your company time and money due to less downtime, as well as fewer hospital bills and lawsuits.
In fact, many of the injuries and fatalities in OSHA's flatbed truck accident reports could have been prevented with adequate fall protection. Here's just one example:
A subcontractor for a construction company was doing concrete work at a residential building in California, when two of the employees tried to move a piece of machinery from the back of a flatbed trailer to the front. The machinery was a tamper: a jackhammer with a flat attachment for compacting soil.
But the flatbed also held a pile of lumber, and one of the workers stepped onto this unstable surface while trying to move the tamper. The worker slipped on the lumber and fell off the bed of the truck, striking his head on a concrete Jersey barrier and landing on the ground. He sustained a fractured neck vertebra, spinal injury and a laceration on his head, and was hospitalized for six days. After an investigation, the employer was cited by OSHA.
This accident report illustrates some of the dangers associated with securing loads on a flatbed trailer, as well as the injuries that could be sustained by falling three or four feet to the ground.
The Evolution Of Flatbed Fall Protection
In the past, flatbed fall protection was often just a warning: "Be careful when you're up there." As a way to relieve their liability for accidents, companies worked with contracted flatbed truck drivers and made the drivers responsible for securing the loads.
The most common safety measure was to have workers wear hard hats secured with chin straps, but workers would only wear them if forced to by the company. Another fall protection method was to use lifelines that slid along tracks, following the worker as they moved along the side of the flatbed. These lifelines helped keep workers from striking their heads, but didn't protect the body from hitting the truck or the ground.
Today, many flatbed safety systems are available that improve employee safety. These include overhead tarping systems and access equipment that help to prevent falls, as well as portable handrail systems and fall arrest equipment, such as safety nets and harness systems.
When choosing fall protection equipment, consider working with a trusted vendor to evaluate your needs and design the flatbed safety system that's best for you and your drivers.
Are you ready to learn how to improve industrial safety at your facility? Promote a culture of safety and become OSHA compliant with seven workplace safety measures.