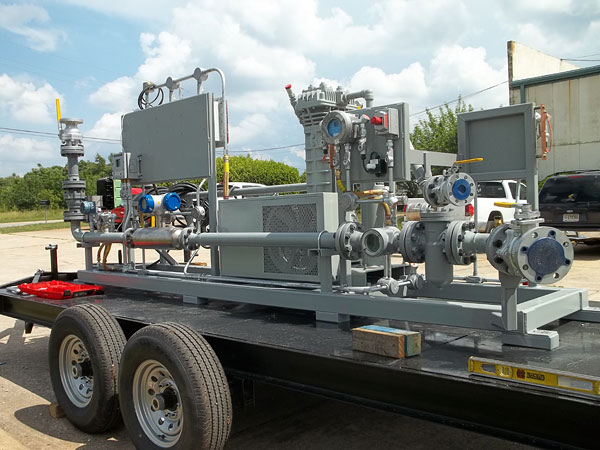 A gas processing company near Chicago, Illinois processes and refines raw gases then sells them to other companies. Some of their products include propane, butane and natural gas.
Because the company is not located anywhere near current oil plays where the gas is being collected, they have to ship the raw or liquid gases by transloading them. That means they move the product from one form of transportation to another, in this case, transload from trucks to railcars because it's a more economical way to ship long distances and railcars can hold a larger quantity of product than tank trucks.
The company uses a "middle man" so to speak for its transloading, they called in Carbis Fluid Handling to get our input on the best way to handle the transloading process. In addition, they needed to make sure that product quantities were being properly measured as well as any other requirements for successful transloading. The needs of the operator were discussed as well as OSHA and NFPA guidelines before deciding the proper equipment needed for the job.
After much consideration, all parties agreed the company needed a mobile unit to be able to perform consistently in different situations. Carbis Fluid Handling recommended a skid mounted tranfer system that was then mounted on a 20-foot trailer. This way the trailer could be attached to a truck in order to move from rail car to rail car and also to different physical locations when necessary.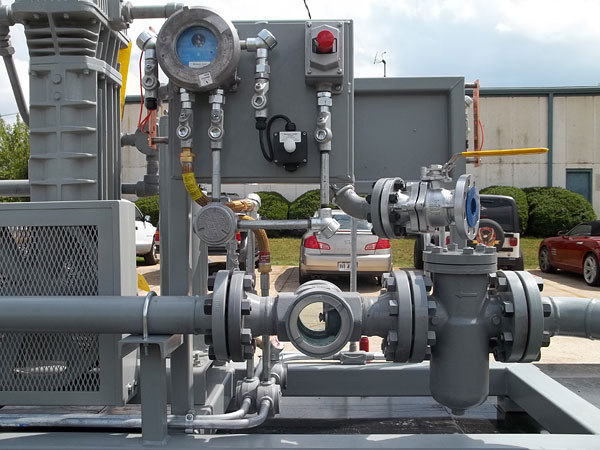 This system has a bottom loading arm and a vapor line to pressurize the tank as it pushes the liquid through the skid where it is metered. A Coriolis meter measures the density of the product in order to get an accurate quantity. Then a ticket printer records and prints out a receipt so both the middle man and the gas refining company know exactly how much product has been transloaded.
Ten feet above the skid-mounted system is an access platform with non-slip surface plus mid- and hand-rails for safety. This is where the operator access the top of the rail car to attach the loading arm and vapor line.
Carbis Fluid Handling manufactured two complete systems for two different types of rail cars. One was for loading LPG into rail cars and the other for high-pressure. The only real difference between the two is in the type of compressor used.
Because Carbis Fluid Handling also deal in fall prevention, these skid-mounted systems contained all the necessary safety equipment including stairs with mid- and hand-rails, fold out gangways, safety cages and loading arms that won't interfere with other equipment or modes of transportation.
Since using the new system from Carbis Fluid Handling, the company has seen an improvement in the efficiency and accuracy of their transloading process. The product is measured more precisely, the process runs more smoothly and the operator is protected by fall prevention. It's a win-win solution for everyone involved.