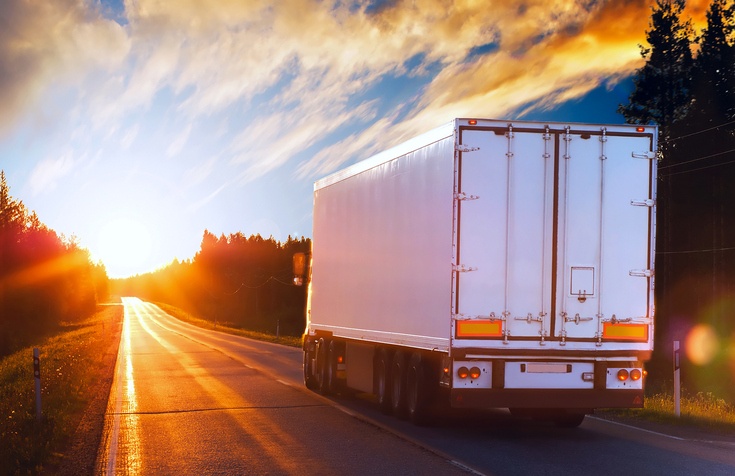 Many factors make tarping flatbed trailers a dangerous job. Tarps are often heavy, weighing as much as 150 pounds. They are large, unwieldy and difficult to manage, which may lead to ergonomic injuries.
In harsh weather conditions like rain, sleet and snow, treading on the plastic tarp may cause your workers to slip and fall from a height. Wind also throws workers off balance when they're handling a tarp on a flatbed truck.
Your workers should be on guard when walking on top of unstable or uneven loads due to the risk of fatal falls. However, this is only a minimum precaution. You need a more comprehensive fall prevention solution to mitigate safety risks.
Don't wait until an injury or death to evaluate your tarping process. Learn how to protect your workers tarping flatbed trailers with the right safety systems for your facility.
First, Seek Expert Safety Consulting
It's impossible to simply pick a piece of safety equipment off a list without first assessing your risks. A truck safety solution provider needs to understand your tarping process before recommending equipment. For example, your equipment must be chosen accordingly if you have limited space inside your warehouse.
Select The Right Fall Prevention Equipment
While your specific equipment will vary depending on your facility, requirements and process, you'll likely need some form of fall prevention equipment. OSHA requires that fall protection be provided at elevations of four feet in most general industry workplaces.
Your safety systems provider should help you design a custom solution tailored to your needs. Often, providers recommend trailer tarping platforms and overhead tarping systems for flatbed trucks.
When it comes to deciding on safety systems, you must consider your business risks. While your workers' safety should be your first priority, failing to provide protection also could hit your budget hard, as OSHA may fine businesses $1,500 to $7,000 for serious safety violations and up to $70,000 for repeated violations.
Properly Train Your Workforce
Even with fall prevention equipment, it's important for employees to receive regular safety training, especially when new equipment is installed. For example, workers should be trained to always wear hard hats with chinstraps and to follow specific processes during inclement weather. They also need to receive product training to understand the challenges of safely securing items under a tarp.
The right safety solutions provider is more than a vendor – it's a partner dedicated to helping you protect your business and your workforce. Be wary of providers that try to sell you a piece of equipment right away. A provider that you can trust will always listen first, take note of your needs and then recommend solutions.
Are you ready to learn more about protecting your workforce? Discover seven workplace safety measures to ensure efficiency and OSHA compliance.