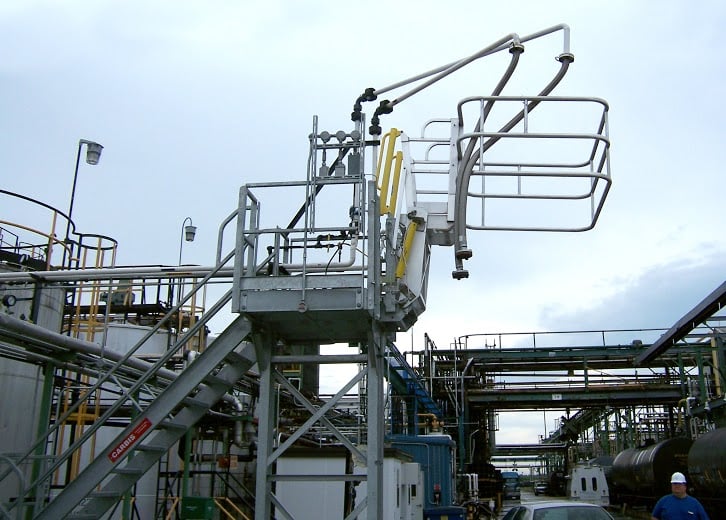 In 2014, 4,679 workers in the United States were killed on the job. To avoid potential workplace accidents and liability, your company should develop an industrial safety plan to help prevent injuries and fatalities.
When you make the safety of your workforce a priority, it's important for your safety equipment to function as a cohesive system. Loading arms and access equipment purchased from different vendors may not always integrate for adequate fall prevention.
Carbis Solutions is the only safety equipment provider in North America that designs and manufactures both access equipment and loading arms. These two moving pieces of equipment are engineered to work together without interference.
Purchase An Integrated Solution From One Provider
When you choose a single manufacturer for your safety solution needs, you are able to reach out to one contact when you experience issues with your equipment. Since your provider designs, manufactures and integrates equipment in-house, communicating problems regarding a specific part or malfunctioning feature is simpler.
Additionally, your vendor takes responsibility for your equipment integration. If you purchase a loading arm from one manufacturer and access equipment from another, you have no assurance that the safety solutions are going to function well together. A single provider is best able to manufacture a completely integrated safety system.
However, not all vendors are capable of providing an integrated system, even when they offer both loading arms and access equipment. Many manufacturers lack the resources to customize or redesign their safety equipment. If design changes are necessary, your safety solutions provider should be able to adjust your loading arm or access equipment depending on how the equipment works together. So, choose your vendor carefully.
By purchasing integrated safety equipment from a single vendor, you minimize the risk of losing money on incompatible loading arms and access equipment. Carbis Solutions engineers and manufactures complete safety solutions that work together seamlessly, so your workers are always protected.
Do you have questions about improving your workplace safety? Speak with a knowledgeable expert at Carbis Solutions to assess your industrial safety needs.