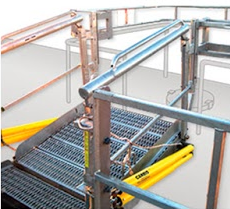 A well-designed safety cage for tank truck or rail car will protect your operators and give them enough room to perform their job. Your facility's employees can complete their duties faster, safer, and with improved efficiency when they are using safety cages from Sam Carbis Solutions Group, LLC. These enclosures surround the operator with multiple metal railings that fit around the outside of the hatch opening to prevent a fall. The enclosure is spacious enough so that workers have the room they need to access hatches with confidence.
No More Tie-Off Systems
When your company uses Sam Carbis Solutions Group, LLC safety cages, you don't need tie-off systems – another safety feature since harnesses can create problems of their own. The major benefit associated with safety cages is fall prevention. However, workplace safety can translate into other benefits too, like higher revenues thanks to improved productivity and better efficiency by eliminating unnecessary stops and downtime due to injuries. Safety cages:
allow safe access to truck and rail hatches
eliminate the need for time-consuming harness systems
increase revenue by improving throughput and efficiency
In addition to ensuring your workers are utilizing the ultimate in fall safety, your company can reap the benefits of enhanced job performance, too.
No More Safety Citations
Avoid potentially high costs in time and money associated with safety citations. Your company's operators will also have the safest possible work environment with any downtime due to accidents being minimized. We design our safety cages with a variety of handrail systems, so they can be used with different crash box configurations.
Save the expense and time lost due to safety non-compliance citations. Sam Carbis Solutions Group, LLC safety cages provide your company with:
the ultimate fall prevention
zero safety citation expenses
reduced or eliminated lost revenue and down-time
Sam Carbis Solutions Group, LLC can design your safety enclosures with manual operation or motor power. Whether retrofit or Greenfield, our systems are always fabricated and engineered with the highest quality products to fit within government requirements and your specific needs.