Used properly, fall protection and fall prevention can really make a difference in saving lives on the job. Just ask the 2% of workers who were not involved in fatal falls on the job in 2010. According to the Bureau of Labor Statistics (BLS) fatal work injuries involving falls decreased 2% in 2010 (from 645 in 2009 to 635 in 2010). Looking back to 2007, fatal falls are down 25% from the 847 that were reported that year.
What these statistics prove is that it's important to identify fall hazards on the job and determine the best way to protect your workers. Even though the number is decreasing, occupational fatalities caused by falls are still a serious public health problem. Any time you have a worker at a height of four feet or more, that worker is at risk of a dangerous fall and needs to be protected. Regardless of the fall distance, fall prevention and protection must be provided when working over dangerous equipment and machinery.
At Carbis, of course, we are going to stress fall prevention as opposed to fall protection since many fall protection devices will end up injuring sometimes even killing a worker after they fall whether it's from harness hang or crashing into a wall or fixed object during a swinging arc. Fall prevention is always the best choice because preventing a fall is far better than trying to protect someone after the fall has already taken place.
There is such a thing as a Fall Protection Decision Tree. It may seem a bit odd to have a tree involved in fall protection but then again maybe it seems so right. The decision tree starts with eliminating any hazard altogether by keeping workers' feet on the ground at all times like you would if using loading arms to fill tank trucks or rail cars. Also, overhead tarping systems for flatbeds eliminate the driver's need to climb all over his/her load to spread the tarp. The ideal scenario is to evaluate the tasks at hand and see how they might be completed without injury to any employees. As you can see above there are multiple ways to solve these issues.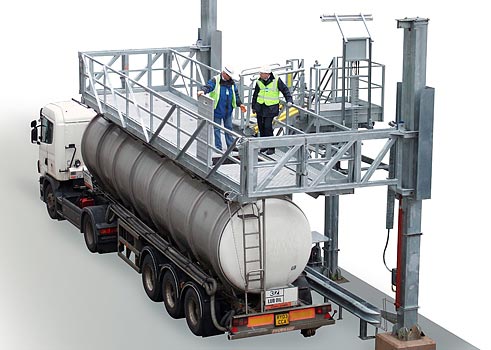 If a hazard cannot be eliminated, then it needs to be guarded using equipment like truck safety cages that surround workers on all sides keeping them from stepping off an edge or slipping off a truck or rail car while trying to access the hatch. An elevating truck platform allows workers to access several types of hatches since most are not uniform. This will bring the potential for slips and falls to a minimum, and the worker won't have to tie off with a harness, which can sometimes get in the way. Employees need to be trained to properly use this life-saving equipment to get the best and safest results.
If there's really no way to guard the task then the last resort is to use personal fall protection. Employees need to be trained on its uses and drawbacks to be able to plan for quick response should a coworker actually fall. Time is of the essence once this happens.
We may not always take the time to stop and think about the lives that are saved by fall prevention but the numbers are definitely increasing! Now you can see how important it is to take those few extra steps each day to evaluate tasks and use the proper equipment needed to perform them safely. The life you save may be your own.